My mentor and two time New York Times best selling author
Orrin Woodward
 has written another book which is volume one of three titled
And Justice For All
.  Having only read the first so far, I can already tell it will be a classic.
Not only does Orrin define the problem but he helps us understand how we got here and he will teach us what we can do to help indidually  and collectively  to help change the current destructive path we are on.
I love what
LIFE Leadership
stands for and what we teach, I truly believe we are part of the "solution" and not the problem. We can only make a positive change if we study and understand history ( including  the Bible) and learn from it and work to implement the lessons in our own lives and teach them to others.
See the interesting image below from the Heritage Foundation and an excerpt of the article from 
End of the American Dream website 
that illustrates what most Americans feel every day, regardless of what the news channel says!
_______________________________________________________________
18 Stats That Prove Government Dependence has Reached Epidemic Levels
Did you know that the number of Americans getting benefits from the federal government each month exceeds the number of full-time workers in the private sector by more than 60 million?  In other words, the number of people that are taking money out of the system is far greater than the number of people that are putting money into the system.  And did you know that nearly 70 percent of all of the money that the federal government spends goes toward entitlement and welfare programs?  When it comes to the transfer of wealth, nobody does it on a grander scale than the U.S. government.  Most of what the government does involves taking money from some people and giving it to other people.  In fact, at this point that is the primary function of the federal government.Just check out the chart below.  It comes from 
the Heritage Foundation
, and it shows that 69 percent of all federal money is spent either on entitlements or on welfare programs…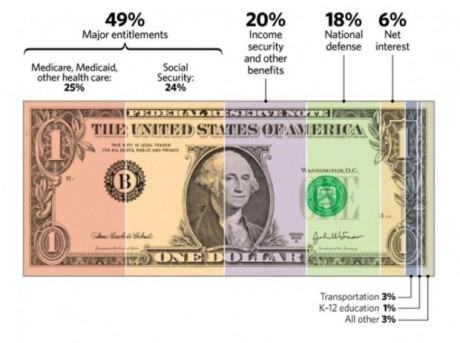 So when people tell you that the main reason why we are being
taxed into oblivion
is so that we can "build roads" and provide "public services", they are lying to you.  The main reason why the government taxes you so much is so that they can take your money and give it to someone else.
We have become a nation that is completely and totally addicted to government money.  The following are 18 stats that prove that government dependence has reached epidemic levels…
#1 According to an analysis of U.S. government numbers conducted by Terrence P. Jeffrey, there are 86 million full-time private sector workers in the United States paying taxes to support the government, and nearly 148 million Americans that are receiving benefits from the government each month.  How long can such a lopsided system possibly continue?
#2 Ten years ago, the number of women in the U.S. that had jobs outnumbered the number of women in the U.S. on food stamps by more than a 2 to 1 margin.  But now the number of women in the U.S. on food stamps actually exceeds the number of women that have jobs.
#3 The U.S. government has spent an astounding 3.7 trillion dollars on welfare programs over the past five years.
#4 Today, the federal government runs about 80 different "means-tested welfare programs", and almost all of those programs have experienced substantial growth in recent years.
#5 Back in 1960, the ratio of social welfare benefits to salaries and wages was approximately 10 percent.  In the year 2000, the ratio of social welfare benefits to salaries and wages was approximately 21 percent.  Today, the ratio of social welfare benefits to salaries and wages is approximately 35 percent.
#6 While Barack Obama has been in the White House, the total number of Americans on food stamps has gone from 32 million to nearly 47 million.
#7 Back in the 1970s, about one out of every 50 Americans was on food stamps.  Today, about one out of every 6.5 Americans is on food stamps.
#8 It sounds crazy, but the number of Americans on food stamps now exceeds the entire population of the nation of Spain.
#9 According to one calculation, the number of Americans on food stamps is now greater than the combined populations of "Alaska, Arkansas, Connecticut, Delaware, District of Columbia, Hawaii, Idaho, Iowa, Kansas, Maine, Mississippi, Montana, Nebraska, Nevada, New Hampshire, New Mexico, North Dakota, Oklahoma, Oregon, Rhode Island, South Dakota, Utah, Vermont, West Virginia, and Wyoming."
#10 According to a report from the Center for Immigration Studies, 43 percent of all immigrants that have been in the United States for at least 20 years are still on welfare.
#11 Back in 1965, only one out of every 50 Americans was on Medicaid.  Today, more than 70 million Americans are on Medicaid, and it is being projected that Obamacare will add 16 million more Americans to the Medicaid rolls.